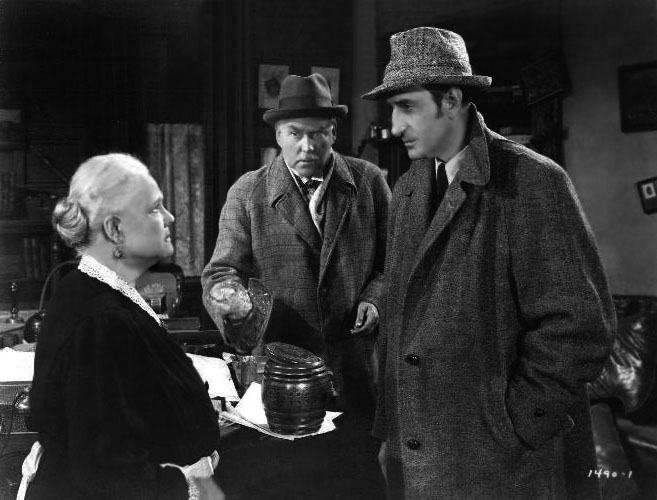 Mary Gordon as Mrs Hudson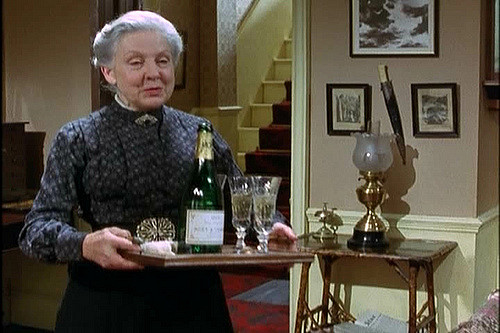 Rosalie Williams as Mrs Hudson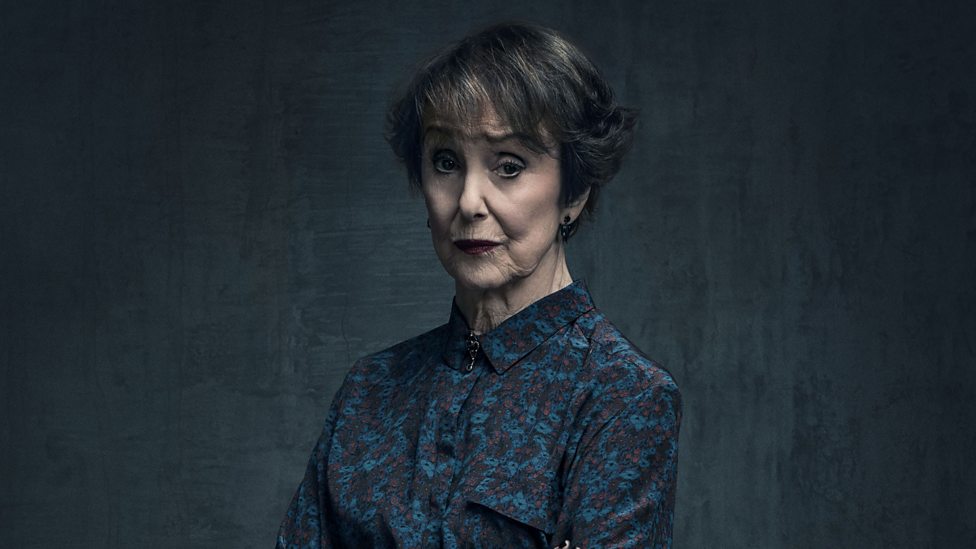 Una Stubbs as Mrs Hudson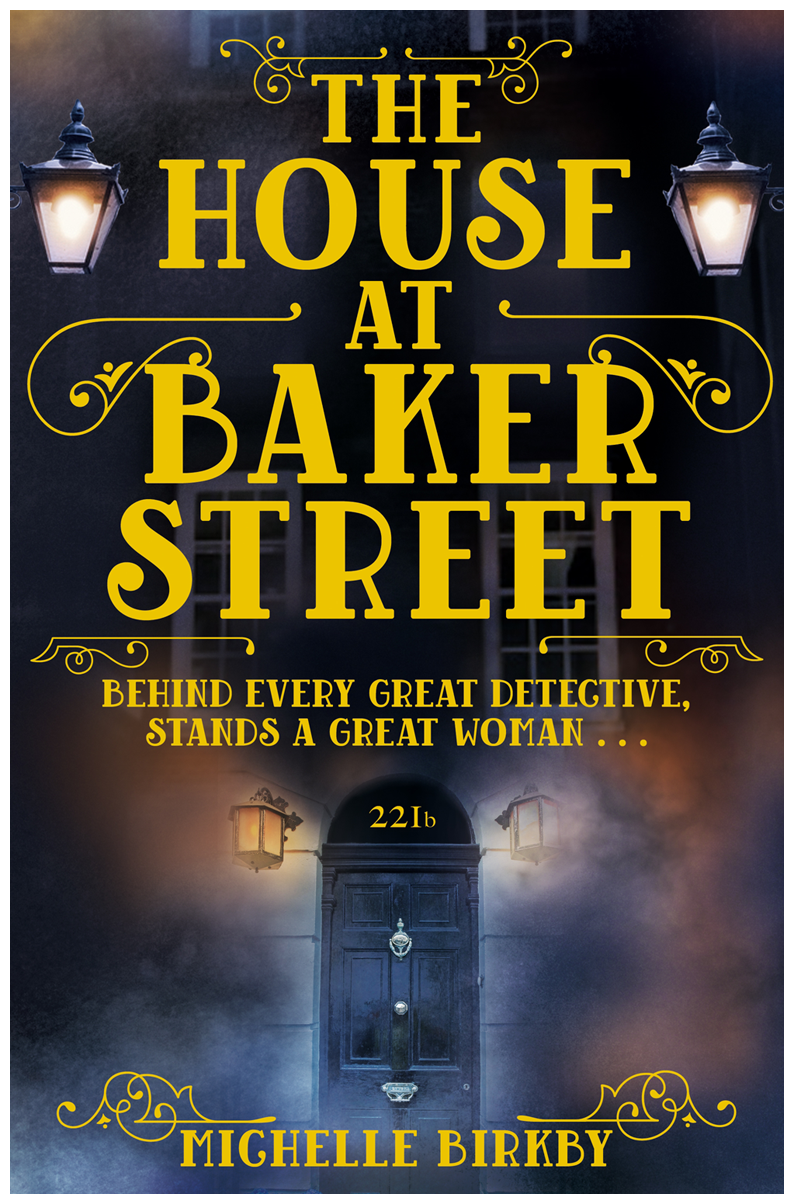 For a man who distrusts women, there are many women in Sherlock Holmes's life — yet only one woman is there at the beginning and end: the indefatigable Mrs Hudson.
For a man who distrusts women, there are many women in Sherlock Holmes's life — yet only one woman is there at the beginning and end: the indefatigable Mrs Hudson.
She isn't even given a name in A Study In Scarlet and yet she is influential. She refuses to rent her rooms to Holmes alone — probably a very sensible move — and forces him to find a roommate, who becomes a lifelong companion.
At the end, in "His Last Bow" — is she its Martha? The stolid, elderly housekeeper, compared to a somnolent Britannia by the German spy Von Bork? The one who turns out to have been spying upon him, from within his own household, for weeks, without raising the least suspicion? I think she must be. Sherlock Holmes isn't like Lord Peter Wimsey, with a whole group of trustworthy, well-trained middle-aged women to call on. Who else, at the end, can he trust but Mrs Hudson?
She is always there. She is the one that shows up the visitors, from distressed ladies to little street boys. She makes the breakfast and lights the fire when Holmes rises early for a case, and she is there when he comes home late at night. She puts up with the malodourous chemical experiments, and Holmes's shooting practice, and the violin practice. But don't mistake her for a walkover.
Watson, always the mythologiser, describes her as devoted to Mr Holmes, and in deepest awe of him. But he also points out that she charges him an incredibly high rent. I can see her eyeing Holmes's patriotic V.R. on the wall in bullet holes, and remarking that that'll be another shilling on the rent.
I admit to not paying much attention to Mrs Hudson for the first few years of my Holmes reading. But one day, as I thought about the kind of heroine I'd like to have in my book —Victorian, middle-aged, quiet, but unexpectedly clever and brave — I read "The Adventure of the Empty House" again.
Of course you know what happens. Holmes has placed a wax head of himself in the window of 221b to tempt a big-game hunter to try to assassinate him. Holmes and Watson set up in the empty house opposite to watch – and when Watson notices, to his amazement, that the wax head across the way has moved, Holmes says he has instructed Mrs Hudson to move it periodically, for realism's sake.
Isn't this odd? Sherlock Holmes asks a middle-aged woman, in full and heavy dress, to crawl around on her hands and knees, moving this wax head back and forth to tempt Colonel Sebastian Moran to shoot. Yet no one — not the chivalrous Watson, nor Holmes, nor Mrs Hudson herself, objects to this. In fact, it all seems almost normal that he asks her to risk her life performing some very un-housekeeperly duties. (I bet his rent doubled after this.) She is actually in the room when shots are fired — she picks up the bullet — but apparently this is all in a day's work for Mrs Hudson.
An ordinary woman — a background character — just the housekeeper; yet courageous, and clever and calm. Trusted and relied on by Holmes to do something he wouldn't ask Watson to do — and everyone is perfectly fine with this. I had my heroine.
"Whenever Sherlock Holmes is adapted for movies and television, Mrs Hudson almost invariably appears. And yet, as she is such an underdeveloped character in the books, the filmmakers can make whatever version of her they wish. There are three that stand out."
Mary Gordon of the Basil Rathbone films is very much the stereotype — a little old Scottish lady with a white bun, prone to fussing and jumping. She isn't well-respected by Holmes and Watson —yet she has that streak of independence. When Watson tells her that they are working on "the greatest case of our career!" she dryly replies "Aren't they all."
Rosalie Williams from the Jeremy Brett series is my absolute favourite and the basis for my Mrs Hudson. She, too, is a little white-haired lady — but she's independent, less in awe of Mr Holmes, and almost a friend. They have a tendency to make plans together in dark corners. They will share jokes across a room, sometimes behind Watson's back. She is far more involved in the cases — not for her just dropping the tea tray and leaving. She stays in the room. Holmes worships her one minute and is exasperated with her the next, but she is utterly vital to him. This is a real friendship.
Una Stubbs in the Benedict Cumberbatch series looks like a batty old lady, but is not. She holds a gun on a drug-addled Holmes, she drives a flashy sports car, she repeatedly points out she is not his housekeeper. The bad guys try to treat her as a victim — but she's no victim. She's a heroine.
--

Michelle Birkby lives in Hampton Hill district of the London area. She is the author of two novels about Sherlock Holmes's Mrs. Hudson, The House at Baker Street (2016) and The Women of Baker Street (2017), published by Pan Macmillan under license from Conan Doyle Estate Ltd., and is at work on her third Mrs. Hudson novel now. She is represented by the Jane Judd Literary Agency.