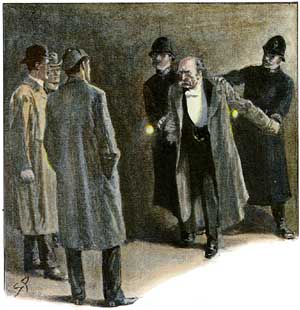 Sidney Paget's Strand Magazine illustration of Moran's apprehension at the end of "The Adventure of the Empty House" (1903), after failing to murder Sherlock Holmes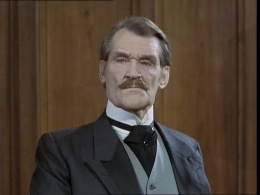 Patrick Allen as Moran in the Jeremy Brett production of "Empty House."
At some point Colonel Moran had gone bad. Without any open scandal, India became too hot for him. He retired from the Army and came to London, where Professor Moriarty sought him out, and used him in particularly difficult criminal tasks.
Colonel Sebastian Moran is memorably described by Sherlock Holmes, in a marginal note written in his index of biographies, as "The second most dangerous man in London." What a marvellous title to give anyone!
The third most dangerous man in London – whoever he may have been – somehow doesn't sound nearly so threatening. Although unstated, we all know that Professor Moriarty was the most dangerous man in London, described by Holmes as "the Napoleon of Crime." Moran was Moriarty's trusted chief of staff, and we are told quite a bit about his life and career.
In the story "The Empty House" Holmes returns to London, after a three-year absence abroad following his struggle with Moriarty at the Reichenbach Falls in Switzerland. In the course of this struggle Moriarty had fallen to his death. Dr. Watson, astonished but delighted to find his friend alive after all, is invited by Holmes to read from an index of biographies:
"Moran, Sebastian, Colonel. Unemployed. Formerly 1st Bangalore Pioneers. Born London, 1840. Son of Sir Augustus Moran, C.B., once British Minister to Persia. Educated Eton and Oxford. Served in Jowaki Campaign, Afghan Campaign, Charasiab (despatches), Sherpur, and Cabul. Author of Heavy Game of the Western Himalayas, 1881; Three months in theJungle, 1884. Address: Conduit Street. Clubs: The Anglo-Indian, the Tankerville, the Bagatelle Card Club."
Once again we can see, in these few lines, the genius of Sir Arthur Conan Doyle: he achieves in so few words a rounded picture of an adventurer, and also gives a good idea of how the British upper classes viewed their Indian Empire in the late Victorian era. It was an empire where Britons officered Her Majesty's Indian Army, where there were many campaigns with the associated chance for bravery to be recognised, and when on leave the hunter had the opportunity to go after big game, and then write up his adventures. Indeed, Holmes comments that Moran is "the best heavy game shot that our Eastern Empire has ever produced," and that his "bag of tigers still remains unrivalled."
"The man's career is that of an honourable soldier," observes Watson, a British Army veteran himself. But at some point Colonel Moran had gone bad. Without any open scandal, India became too hot for him. He retired from the Army and came to London, where Professor Moriarty sought him out, and used him in particularly difficult criminal tasks. We also learn that Moran went to Switzerland with Moriarty, and that it was Moran who hurled rocks at Holmes from above after the Professor had fallen to his death.
Certain that Moran would be responsible for further criminal activity in London, Holmes stayed abroad until news of the death by shooting of the Hon. Ronald Adair prompted him to return. Adair had been Moran's partner at cards, and had discovered that Moran – of course – had been cheating. Before Adair had the opportunity to denounce Moran, he was shot through a window by a bullet from a unique and powerful air-gun, which Holmes knew had once been commissioned by Moriarty from Von Herder, a blind German mechanic. Holmes had never seen the weapon, but understood that it must now be in the hands of Moran, one of the best shots in the world.
Aware that, given the opportunity, Moran would use this weapon against him, Holmes alerted Scotland Yard, and that evening he and Watson kept watch on their old rooms in Baker Street, where the interior light brightly illuminated a wax bust of Holmes. Moran took the bait and shot at "Holmes" from across the street. He was at once apprehended by Holmes and Watson, and the police. (However, for some unexplained reason, Moran did not go to the gallows for the murder of Adair. In "The Illustrious Client," a later story, Holmes's client says of Baron Gruner: "there is no more dangerous man in Europe," and Holmes replies: "If your man is more dangerous than the late Professor Moriarty, or than the living Colonel Sebastian Moran, then he is indeed worth meeting.")
Colonel Moran makes an appearance in several Sherlock Holmes pastiches, and other, fictional literary works, but on television his role has usually been restricted to appearances in adaptations of "The Empty House." In the 1986 Granada Television adaptation of this story, with Jeremy Brett as Holmes, Moran is well played with an urbane but steely determination by Patrick Allen in a reasonably faithful adaptation of the story. In the BBC Sherlock series with Benedict Cumberbatch as the contemporary Sherlock, in the episode The Empty Hearse, Moran memorably appears as Lord Moran, a member of the House of Lords, and a North Korean agent – a coupling presumably about as sinister as you can get. The plot is new, but with occasional nods to one or two of the original stories. Intriguingly, the actor playing this role is uncredited, and his name remains presently unknown – a puzzle worthy of Holmes himself to solve.
On film, Moran has made the occasional appearance. In the 1946 Basil Rathbone movie Terror by Night Moran is the principal villain, attempting to steal the Star of Rhodesia diamond on the London-Edinburgh express. He is introduced as Major Duncan-Bleek, but identified by Holmes as Moran, and after much action on the train, including murders and fights, Holmes captures him. Moran was played by Alan Mowbray, one of those English actors who made their way to Hollywood in the 1920s, but he does not appear sinister enough for the Moran created by Conan Doyle. This is not the case with the Moran in the 2011 Robert Downey, Jr./Jude Law movie Sherlock Holmes – A Game of Shadows, however, where Moran is again Professor Moriarty's right-hand man. Moran is used by Moriarty as a hired assassin, his skill as a marksman put to good use. This Moran is man of few words, and at times more deferential to Moriarty than might be expected. Played as both dangerous and sinister by Paul Anderson, his depiction brings the character closer to that originally described by Sir Arthur Conan Doyle.
Did Sir Arthur have a real person in mind when creating Colonel Moran? There have been several candidates put forward as the original of Professor Moriarty, but so far as we know, none of these people had a criminal second-in-command like Moran. But we should keep in mind that both Moriarty and Moran are surnames of Irish origin (as indeed is Doyle), and their originals may yet be discovered through detailed research into Irish ancestries.
--

Written by Guy Marriott, a retired English Solicitor who purchased his first Sherlock Holmes book at the age of 9. For more years than he cares to admit, he has enjoyed the writings of Sir Arthur Conan Doyle – not only Sherlock Holmes and Dr .Watson, but also Doyle's writings on the many other memorable characters he created. A former Chairman of The Sherlock Holmes Society of London, and then its President, Guy now divides his time between France and Spain.